The Ellen McIlwaine Pages | Ellen McIlwaine Discography
---
Ellen McIlwaine :
A Concise Biography
---
By Joseph Levy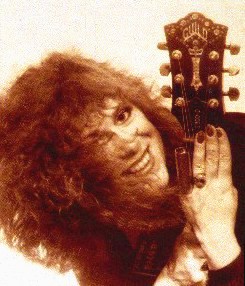 Ellen McIlwaine was born October 1, 1945, in Nashville, Tennessee, and was adopted by William and [Frances] Aurine McIlwaine, a Southern Presbyterian minister and his wife, when she was six weeks old. At age two, she was taken with them to their new assignment as missionaries in post-war Japan.
For 15 years, McIlwaine lived in Kobe, Japan, and attended a Canadian school with an international student body. Here she was exposed to a wide range of cultures and musical traditions, including those of Asia and India. She started playing piano at age five and also sang in the church choir. Although her introduction to American country music came mainly from broadcasts on the US Armed Forces Radio, the primary musical influence of her early years was New Orleans-style Rhythm & Blues. She picked it up in Japan listening to the frequent concerts and air play of Black American recording stars such as Ray Charles, Fats Domino, and Professor Longhair, and it is still evident in McIlwaine's music today.
At age seventeen, McIlwaine returned to the United States with her parents to continue her education, first at King College in Bristol, Tennessee (1964-1965), then at Dekalb College in Clarkston, Georgia (1965), just outside of Atlanta. After two frustrating years, she left school and two weeks later made her first professional appearance in Atlanta where she played guitar and performed in local clubs. In 1966, during a trip to Georgia, singer and songwriter Patrick Sky heard her and invited her to New York City. Sky introduced her to his manager who in turn introduced her to the Cafe Au Go-Go in Greenwich Village. There she played nightly on bills which included Jimi Hendrix (whom she credits with the inspiration for using her voice like a guitar), John Lee Hooker, and Howlin' Wolf, picking up many of her trademark guitar licks along the way. In fact, it was here that she was introduced to the slide guitar style by Randy California and Richie Havens.
Returning to Atlanta in 1967, McIlwaine put together Fear Itself, her first (and only) formal group. She said that at the time, women in rock bands were mainly relegated to being back-up singers (or groupies) for male leaders and were never featured as musicians. Rather than be restricted by convention, she started Fear Itself so that she could be both the lead singer and lead guitarist. She gave the group its name saying that "fear itself" was how she felt being the 22 year-old leader of an otherwise all-male rock band. In 1968, she took the band back to New York to record their self-titled debut album. The review in Rolling Stone magazine described them as an "experimental... white blues band" consumed with "driving energy."
In 1968, McIlwaine moved to the Woodstock, New York, area and started to play solo again. In 1972 and 1973, she recorded her most popular and more "folk" oriented albums, Honkey Tonk Angel and We The People. Although both were perennial favorites on college and progressive radio stations, neither album resulted in the national break-out that she was working towards. In 1975, she moved to Montréal, Canada, for a year and recorded The Real Ellen McIlwaine with the Ville Emard Blues Band, Québec's popular music collective. This was an album dedicated to mentor Jimi Hendrix and was much closer in spirit to her electric blues roots. It succeeded in capturing the enthusiasm of her live performances more than any of her other releases until 1998's Women In (E)Motion.
McIlwaine returned to Atlanta in 1976. A change of managers and record labels resulted in 1978's Ellen McIlwaine, a self-titled, disco-flavored LP on which she was backed by jazz fusion musicians John Lee and Gerry Brown. She called the experience of making it "probably the low point of my life. My self esteem was at such a low ebb that I believed the 'you're doing it all wrong, you don't know what you're doing...' line [United Artists] had and I went along with the hiring of an 'orchestrator' and their selecting the songs (some of which I really liked, but the arrangements and production seemed to me to be a waste of good musicians) and did not find out until they were recording the rhythm beds that I was not going to be allowed to play the guitar at all because 'you don't have the chops!!' By that time I was locked in to making the record. I spent nights in the hotel in lower Manhattan rocking with my guitar in the rocking chair and crying."
Despite the disappointment of that album, in a measure of her home-town popularity, Mayor Maynard Jackson of Atlanta proclaimed a special day in her honor in that same year.
In 1982 McIlwaine moved to Willimantic, Connecticut and recorded Everybody Needs It with Cream bassist Jack Bruce playing and producing. In 1987, she relocated to Toronto, Ontario, at the invitation of Sylvia Tyson (of the duo Ian & Sylvia) and released Looking For Trouble. Although more controlled in their production, the latter two albums are still strong, gutsy recordings.
Since 1992, McIlwaine has resided in Calgary, Alberta. Except for Fear Itself, all of her albums have been reissued on CD and are currently available. She still tours continuously, mainly playing small clubs throughout North America and Europe. A live CD called Ellen McIlwaine: Women In (E)Motion Festival, recorded in Bremen, Germany, was released in 1998. Lately, she has been touring with Taj Mahal and a new CD, Spontaneous Combustion, includes duets with Taj on two numbers.
Last Revision: 22 June 2001
---
---
Joseph Levy lives in New York State (in the USA) and is an artist, record collector, and author of The Vinyl Tourist web site.
---
Related Sites:
Sources:
Alberta Report, Lady's Got The Blues, 6. November. 1995
Blind Pig Records, Press Release for Everybody Needs It, 1982
Ed Leimbacher, Fear Itself, Rolling Stone, October 18, 1969, p. 37
Ellen McIlwaine, Her own words, in concert, 1988-1997; personal correspondence, 1998
Ellen McIlwaine Music, Press Release, 1988
Cathi Norton, A conversation with Ellen McIlwaine
Who's Who In America, 41st edition, 1980-1981, vol. 2, Marquis, Chicago, 1980, pg. 2241
Photo credit:
Jo David, courtesy of Blind Pig Records.
---