The Pérez Prado Pages | Biography | Discography Contents Page
---
Pantaleón Pérez Prado Discography
---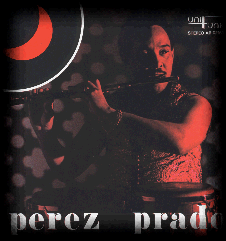 Recordings by Pantaleón Pérez Prado, (1926-1983) younger brother of Dámaso Pérez Prado, El Rey del Mambo.
Original country of first release as [noted]. Other pressings may also exist, as well as promotional copies.
Coming soon: Album track listings and cover art.

---
EPs
7-inch

19?? - Cha Cha Cha (Royal EPN 117) [Italy]
Includes the songs "Madunina," "Cheek to Cheek," "Perdido," and "The Continental."

10-inch

195? - Pantaleon Perez Prado No. 1 (Philips B76-054R) [France]
LPs
12-inch

1957? - Cuban Rhythms (Toreador EPT-0514) [Spain?]
Credited to "Pantaleon Perez Prado y su Orquesta de Baile." Recorded in Madrid, Spain.
Also released as:

1957 - Ritmos Cubanos (Toreador EPT-0514) [Uruguay]

19?? - Perez Prado Now (Contour 2870 385) [UK/Italy]
19?? - Perez Prado Sounds Superb (2M048-97147) [UK]
19?? - Cha Cha Cha (Vogue Mode) [Germany]
This record has 9 titles by Pantaleon (credited as original Durium recordings), plus 5 titles by Benny Bennet.
1972 - Escandalo (UniFunk AR 03018) [Italy]
Also released as:

1974 - Escandalo (Ariola 88216) [Italy]

1974 - Love Child (Ariola 88215) [Italy]
1975 - La Ultima Noche (UniFunk Italia) [Italy]
45rpm Singles
196? - "Espirito" b/w "Non me Pinche con Cuchillo" (Italdisc 101) [Italy]
1972 - l'Escandalo, "Smack" b/w "Que Es Lo Que Pasa?" (UniFunk AR 02105) [Italy]
CD's
1996 - Perez Prado Pantaleon (Nuova Fonit Cetra/UniFunk FCP 2054-2) [Italy]
1996? - Escandalo (Nuova Fonit Cetra/UniFunk) [Italy]
Reissue of Ariola 88215. UniFunk, like Pantaleón himself, implies that the music is by Dámaso Pérez Prado, which is not the case.
---
---
The Pérez Prado Discography was compiled by Joseph Levy with additional help from:


Michael Macdonald-Ross (Non-US and Beny Moré LPs and films)
Pekka Salonen
Pepe Luhtala (78s)
John Wade (45s)
Agustine Velez (LPs and CDs)
Juan Pedro Rivera (LPs, CDs and films)
Jaime Jaramillo (Films)
Lennart Persson (European LPs and CDs)
Eric Chapman (European and other LPs)
Silvano Bracco (Italian LPs)
Hiroyoshi Kuwayama (Japanese LPs)
Peter Principle (Mexican LPs)
Cary Ginell (78s and 45s)
David Racine (Video Game)
Maria Lilienheim (Argentine LPs and 45s)
Jerry Priessen (LPs and 45s)
---
Last Revision: 27 September 2009
---
Spot any mistakes? Know of any albums not on this list? Have anything on my Want List for sale - or know where I can find it? Please . Thanks!
---