The Doug Sahm Pages | Doug Sahm Discography
---
Doug Sahm and the Sir Douglas Quintet:
A Brief History
---
By Joseph Levy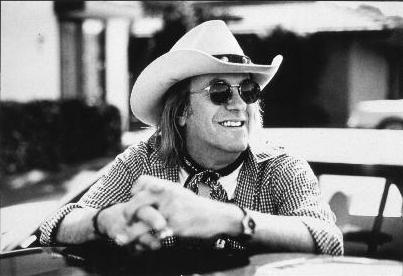 Douglas Wayne Sahm was born November 6, 1941, in San Antonio, Texas. Considered to be a prodigy on steel-guitar, mandolin, and fiddle, he made his radio debut at age five singing "Teardrops In My Heart" on station KMAC in San Antonio. This was followed by two years of radio appearances on the Mutual network. He became a featured player on the Louisiana Hayride country radio program by age eight. Known as Little Doug Sahm, he would often sit in at live performances of such greats as Webb Pierce, Hank Thompson and Faron Young. In December, 1952, Hank Williams took Doug on stage in Austin, Texas, less than two weeks before Williams's death.
About his pre-teen days, Doug wrote, "Across a plowed field from my house was a place called Eastwood Country Club. On any given night you had T-Bone Walker, Junior Parker, The Bobby 'Blue' Bland Review, Hank Ballard and James Brown... At about twelve or thirteen years old, my neighbor, Homer Callahan, a red-headed Irishman who loved to fight and listen to Howlin' Wolf, would bring over these great 45's with colorful labels like Excello, Atlantic, and Specialty, and dudes like Lonesome Sundown, Jimmy Reed, and Fats Domino. My mother, bless her soul, couldn't understand the profound effect these records had on her white son who was growing up fast in the predominantly black section of San Antone... Bear in mind, these weren't ghettos with crime filled streets, but for a white boy to be accepted at The Ebony Lounge was like being signed to the New York Yankees."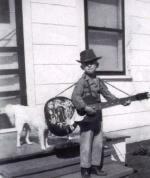 As a teenager, Sahm was offered a regular spot on the Grand Ol' Opry in Nashville, but his mother decided that he should stay in his home town and finish junior high school. Doug released a number of singles on various local record labels, beginning at age eleven with "A Real American Joe" backed with "Rollin' Rollin'" for Sarg Records. He fronted several bands during his high school years, including the Pharaohs, the Dell-Kings, and the Markays.
Doug met Augie Meyers, (b. May 31, 1941) the son of a local grocer, around 1953 when he and his parents came by the Meyers' store on East Houston St. in the San Antonio suberb of St. Hedwig. Augie had learned to play guitar and piano as a way to overcome polio-induced immobility in his hands and had his own band, the Goldens.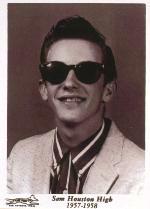 In 1964, Doug Sahm's Markays found themselves sharing the stage with Augie Meyers' Goldens, both opening for British headliners the Dave Clark Five. For several years, Sahm had been pestering producer Huey P. Meaux, nicknamed the "Crazy Cajun," to record him. Meaux, feeling successful with acts like Barbara Lynn and Dale And Grace, was not interested. However, the producer soon found himself without a market when Beatlemania hit America. The story goes that Meaux, not to be outdone by a bunch of British upstarts, headed for San Antonio where he shut himself away in a hotel room with a bountiful supply of Thunderbird wine and every Beatles' record he could find, determined to discover what made them sell. His conclusion: "The beat was on the beat, just like a Cajun two-step." He then called Sahm, told him to grow his hair long, form a group, and write a song with a Cajun two-step beat. Doug assembled a band composed of members of his own Markays and Augie's Goldens. Meaux gave them an English sounding name, the Sir Douglas Quintet and, in 1965, scored an international hit with "She's About A Mover," an infectious blend of Texas pop and the Beatles' "She's A Woman." The song was recorded on January, 14, 1965, and proved to be their all-time biggest hit.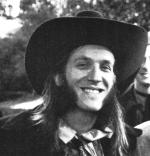 Following a minor arrest for marijuana possession at the Corpus Christi airport, Sahm left Texas for San Francisco in March, 1966. He remained there for about five years, recording several LP's, including Mendocino, for the Mercury subsidiary Smash and its affiliate Philips, before returning to Texas.
It's almost impossible to classify Sahm and his music as one style or another. Country, rock, Western swing, Tex-Mex, polka, and blues all form part of the Sir Douglas mix. Sahm himself said, "I'm a part of Willie Nelson's world and at the same time I'm a part of the Grateful Dead's. I don't ever stay in one bag." He continued, "I (used to) play steel guitar with Alvin Crow and they (called) me Wayne Douglas. I have all these aliases. Wayne Douglas. Doug Saldaña. Saldaña is the name the Mexicans gave me. They said that I had so much Mexican in me that I needed a Mexican name."
In 1973, Jerry Wexler of Atlantic Records bought Sahm's contract from Mercury and produced Doug Sahm And Band, a "supergroup" album featuring Bob Dylan, Dr. John, David Bromberg, and Flaco Jimenez. Sahm and Meyers continued to record for different American labels throughout the 1970's and early 1980's, but without the popularity of the early years.
During this period, Sahm also had a couple of minor motion picture roles. In 1972, he and the Quintet appeared with Kris Kristofferson in Cisco Pike and in 1979 he was featured in More American Graffiti. His song "Michoacán" (a Mexican state on the Pacific coast and reputed to be a euphamism for marijuana) and his cover of Bo Diddley's "I'm A Man," were included on those two films' soundtracks, respectively.
In 1983, Sahm and Meyers signed with the Swedish Sonet label, and made several extensive European tours that revitalized their careers. The single "Meet Me In Stockholm" from their Midnight Sun LP went platinum and was one of the biggest selling records ever in Scandinavia. "We were having riots on stage," said Doug. "Swedish chicks (were) running up on stage, knocking me over, ripping my clothes."
In 1985, Sahm took a road accident to be a sign to return to North America, and formed a new band in Canada with Amos Garrett. He returned to Texas in 1988 to record for Clifford Antone's self-named Austin-based label and in 1989 toured with Angela Strehli and Flaco Jimenez as Antone's Texas R&B Revue.
That same year, Sahm talked with Cameron Randle, of the Arista Texas label, about forming a Tex-Mex version of the Traveling Wilburys. This group became the Texas Tornados and reunited Doug Sahm and Augie Meyers with Flaco Jimenez and Freddy Fender. The Texas Tornados went on to produce eight albums, including a "Best Of" anthology.
The Sir Douglas Quintet did not remain dormant, either. In 1994, Sahm re-formed the group with his sons Shawn Sahm and Shandon Sahm and recorded the hard rock CD Day Dreaming At Midnight. The same year he was also the centerpiece of the more R&B influenced CD The Last Great Texas Blues Band.
In 1999, Sahm inaugurated his own label, Tornado Records, in order to continue releasing his own material, as well as producing albums by other musicians, such as Ed Burleson.
Sadly, the San Antonio Express-News reported that Doug Sahm died November 18, 1999, while vacationing at the at the Kachina Inn in Taos, New Mexico. They also carried a tribute to Sahm, as did the Austin American-Statesman. While the exact cause was unknown at the time, it was later determined that Sahm succumbed to a heart attack.
The Austin Chronicle has devoted an entire issue to his memory, including a dozen articles by many of those who were close to him. Chronicle reporter Margaret Moser attended Sahm's funeral on November 22 and offered her own personal remembrance. Reporters from the American-Stateman and the Express-News were also there.
Three articles about Doug Sahm which were originally published in Texas Monthly magazine in 1974, 1989, and 1993, have been reposted on their website. There was also an obituary in the New York Times.
In addition, there is a Doug Sahm Memorial Page in which his family, friends, and fans share messages and memories.
Finally, on November 26, 1999, Terry Gross rebroadcast a tribute put together by Ed Ward in 1988, plus an interview she conducted with Sahm on September 7, 1989, on her radio show Fresh Air. You can listen to this broadcast in RealAudio. This segment starts at about the 46:50 mark into the program [Tip: Move the slider on the Real Audio window to this point]. Sahm, himself, comes in at about the 52:00 minute mark. In the introduction, Gross misreads a line when she says that Sahm died at the age of 88 (he was actually 58). Later she corrects herself. Also, Ward mistakenly states that Sahm was of Lebanese descent, when his parents were actually Americans of German and Irish origin. As a joke, Sahm once told Ward that they were from Lebanon and this misstatement of fact was repeated by John Lomax III in the liner notes to 1998 CD The Crazy Cajun Recordings, as well as in The Guiness Encyclopedia of Popular Music, among other places.
Sahm's last album of original material, The Return of Wayne Douglas, was released posthumously in late 2000.


---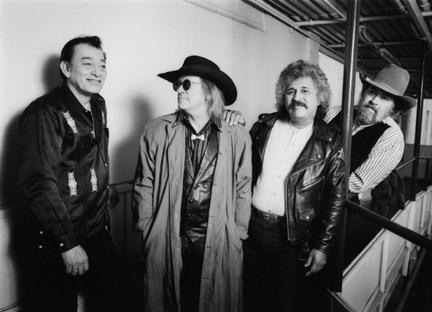 The Texas Tornados, 1996:
(From Left) Flaco Jimenez, Doug Sahm, Freddy Fender, and Augie Meyers.
---
Doug Sahm
Discography
---
Joseph Levy lives in New York State (in the USA) and is an artist, record collector, and author of The Vinyl Tourist web site.
---
Sources:
Brock Helander, The Rock Who's Who, 2nd edition, Schirmer Books, New York, 1996, pp. 602-603
Kevin Kosub, Doug Sahm, The Texas Tornado, San Antonio, 1992
Colin Larkin, ed., The Guiness Encyclopedia of Popular Music, Guiness Publishing, 2nd edition, 1995, pp. 3639-40, 3807
Doug Sahm, The Last Real Texas Blues Band (liner notes), Antone's Records #ANT 0036, 1994
Ed Ward, "The Sound of Texas," The Rolling Stone Illustrated History of Rock & Roll, revised edition, Random House, New York, 1980, pp. 254-255
John Wooley, He's About A Mover - The Doug Sahm Story, DISCoveries (Issue 80), January, 1995
Photo Credits:
Top (Doug Sahm - 1995): John Halpern, courtesy Elektra Records
Middle (Little Doug Sahm and Doug Sahm - 1958): courtesy Doug Sahm and Antone's Records
Middle (Doug Sahm - 1969): Dick Powers, courtesy Mercury Records
Bottom (Texas Tornados): Dennis Keeley, courtesy Reprise Records
Related Sites:
---