The Doug Sahm Pages | Doug Sahm Biography
---
Doug Sahm Discography:
Including the Texas Tornados
---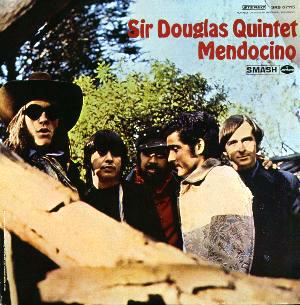 Since 1955, Doug Sahm has released records under his own name, as well as fronting several bands including the Knights, the Pharaohs, the Dell-Kings, the Markays, the Sir Douglas Quintet, and the Doug Sahm Band. Generally speaking, these groups consisted of Doug Sahm, Augie Meyers, and whoever they happened to be making music with at the time. Since most dealers list them under "Doug Sahm" or "The Sir Douglas Quintet," for purposes of this discography they have all been consolidated here in chronological order.

A separate discography for the Texas Tornados, the Tex-Mex "Super Group" Sahm and Meyers (along with Flaco Jimenez and Freddy Fender) formed in 1989, appears at the end.
This basic discography is designed for the average collector and lists every major recording along with the [country] of original release. In some instances this is followed by secondary listings of major variations. Note that US labels often issued or licensed copies for release in Canada, the UK, Europe, Australia, etc. Also, records and CDs on the Sonet label may be from Sweden, the UK or other countries. Some albums and singles may have minor label or cover differences as they were repressed or reprinted. Some dates are approximate.
Coming soon: Album track listings plus cover art.
---
Table of Contents:
Doug Sahm and the Sir Douglas Quintet
LPs
45 rpm Singles
Original CDs and Anthologies
CD Compilations (Various Artists)
CD Singles
Cassette Tapes
---

Doug Sahm
Biography
---
The Doug Sahm and the Sir Douglas Quintet Discography was compiled by
Joseph Levy and is based (in part) on earlier work published by:
Kevin Kosub
Willis "Bill" Fowler
DISCoveries and
Goldmine magazines,
plus additional information provided by
Kilian Mathis,
as well as original research.
---
Other Related Pages:
The completist may also wish to visit Kilian Mathis's "Ultimate" Doug Sahm Discography which also includes complete track listings. Warning! This list is only for the truly obsessive and contains more information than you may really want to know!
---
Spot any mistakes? Know of any items not on this list? Have anything on my Want List for sale - or know where I can find it? Please . Thanks!
---