The Doug Sahm Pages | Biography | Discography
---
Doug Sahm Discography:
Unreleased Live Recordings
---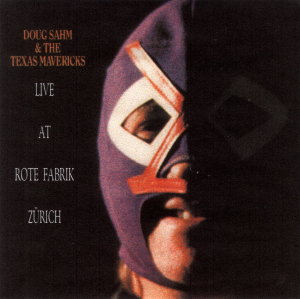 Since 1955, Doug Sahm has released records under his own name, as well as fronting several bands including the Knights, the Pharaohs, the Dell-Kings, the Markays, the Sir Douglas Quintet, and the Doug Sahm Band. Generally speaking, these groups consisted of Doug Sahm, Augie Meyers, and whoever they happened to be making music with at the time. The Texas Tornados include Sahm and Meyers plus Flaco Jimenez and Freddy Fender, both long-time stars of the Tex-Mex music scene.

These recordings are mainly unreleased (bootleg) performances that have circulated among fans on cassette tape and, more recently, on CD-R. They come from a variety of sources and quality varies. Some dates are approximate. When available, click on each title for complete track listings and an MP3 sample.


---
1972 - 23 November, Armadillo World Headquarters, Austin, Texas (3 Discs)
1981 - 13 May, Paris, France
1981 - 27 May, Antwerp, Belgium (2 Discs)
1983 - May, Amsterdam, Holland
1983 - 13 May, Stockholm, Sweden
1983 - Tübingen, Germany (2 Discs)
1985 - 31 May, Zürich, Switzerland
1985 - June, Amsterdam, Holland (3 Discs)
1985 - June, Stockholm, Sweden
1987 - 28 March, Zürich, Switzerland (2 Discs)
1987 - San Antonio, Texas
1990 - 22 August, San Francisco, California - Texas Tornados
1996 - 6 November, Doug Sahm Hoot with the Gourds, The Hole In The Wall, Austin, Texas
1998 - 3 July, The Gourds with Doug Sahm, Quincy, California (2 Discs)
1998 - 25 October, The Gourds with Doug Sahm, Stubbs BBQ, Austin, Texas (2 Discs)
1998 - 18 December, Austin, Texas
1999 - 8 October, Austin, Texas - Texas Tornados
2001 - 6 November, Doug Sahm [Memorial] Hoot, Continental Club, Austin, Texas (2 Discs)
1970s-1990s - Interviews
---
---
The Doug Sahm and the Sir Douglas Quintet Discography was compiled by
Joseph Levy and is based (in part) on earlier work published by:
Kevin Kosub
Willis "Bill" Fowler
DISCoveries and
Goldmine magazines,
plus additional information provided by
Kilian Mathis,
as well as original research.
---
Last Revision: February 2010

---
Other Related Pages:
The completist may also wish to visit Kilian Mathis's "Ultimate" Doug Sahm Discography which also includes complete track listings. Warning! This list is only for the truly obsessive and contains more information than you may really want to know!
---
Spot any mistakes? Know of any albums not on this list? Have anything on my Want List for sale - or know where I can find it? Please . Thanks!
---